Get a budget mobile home (made in Spain)
AFFORDABLE CONTAINER HOME
monitor building process online

office and showroom in Madrid (you are welcome there)

talk with designer and builder with Skype & WhatsApp

fluent communication in Czech, English and Spanish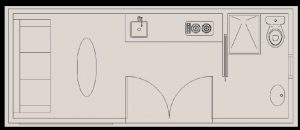 Mobile Home 15m2 (starting from €12.800)
Where a small space gives a feeling of spaciousness. This model has an open space with a sliding door that leads to the bathroom with a shower, toilet and a sink. There is the possibility of including a kitchen. Ideal as a guest house and for couples.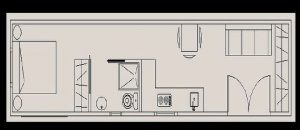 Mobile Home 30m2 (starting from €17.800)
A compact module with all the comforts and functionality of any house. It has an open space with kitchen, dining table and living area with sofa bed. At the other end there is a bedroom with a queen size bed and a closet. It includes a bathroom that divides the two spaces for greater privacy between the rooms. Good option for small families or for guests.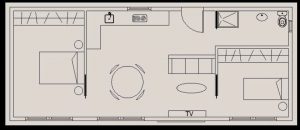 Mobile Home 60m2 (starting from €68.000)
This module increases the interior space by connecting two shipping containers. While this means that the resulting house is not mobile, it provides a great space for comfortable living. The module includes two rooms at the ends, in the center is the living room with integrated kitchen and a bathroom.
Download more information
Where do you live?
I am interested to locate my container house in
I want download more information